#Bringbackourgirls: Hashtags attacked by some as false activism
Critics label them 'slacktivism'
If you hashtag something, does it matter?
That's become a big debate following the recent introduction of the #bringbackourgirls Twitter campaign.
Designed to spread awareness about the more than 250 school girls kidnapped in Nigeria by the militant Islamist group Boko Haram, the hashtag campaign already has attracted more than a million tweets.
Noted celebrities, human rights figures and even the first lady photographed themselves with signs promoting the hashtag. But as much as the campaign has received exponential support, it also has met harsh criticism and been likened more to "slacktivism" than activism.
Rush Limbaugh was one of the first to throw a punch. On a show last week, Limbaugh said:
"I just think this is pathetic. I'm just stunned. We got … Nigerian girls kidnapped by an Al Qaeda group, and nobody cared or talked about it for a while, Hillary [Clinton] wouldn't call 'em a terror group. Now all of a sudden, for some reason, we're on a big push to get 'em back and this is how… ?"
He continued:
"The sad thing here is that the low-information crowd that's puddling around out there on Twitter is gonna think we're actually doing something about it."
On Sunday, Fox News reporters also took  their own jabs at the campaign. Contributor George Will called Michelle Obama's involvement an "exercise in self-esteem."
But the debate may have hit its zenith Monday when conservative commentator Ann Coulter took to Twitter and sent out a photo of  her own version. It read: #Bringbackourcountry.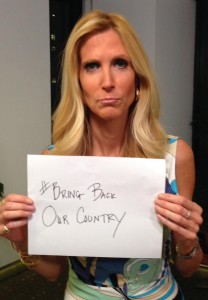 As you can imagine, an intense back-and-forth over the issue ensued.
It's fair to say supporters of the Nigeria hashtag campaign probably don't think the sentiment will reach the ears of Boko Haram and twitter-shame the group into releasing the girls. But is it fair to say hashtag activism doesn't matter at all?
The history of hashtags is embedded in activism and community engagement. Hashtags became a thing starting in 2007 when Nate Ridder used the first hashtag #sandiegofire to track conversations about the disaster. In 2009 Twitter officially adopted the use of hashtags.
View the trend of Hashtag popularity here.
Occupy Wall Street was a huge user in 2011 with #OWS and #99percent.According to Caitlin Dewey at the Washington Post, the Occupy movement was the first time that a hashtag was aimed at a specific policy, "something that could, with enough awareness, be easily reversed by a handful of people."
There have been scores of similar hashtag campaigns over the years ranging from the political #Stopthesequester to the vigilante #JusticeforTrayvon. Other notables include #Easethesqueeze #Kony2012 and #StandwithPP.
Hashtags are the 21st Century bumper sticker. By tweeting them you align yourself with a group of others who vocally support the same cause. As Ms. magazine put it, it's also a communications tool that trumps writing letters to your member of Congress by helping to organize and rally people around a cause that might not otherwise be heard.
Dave Weigel of Slate summed it up nicely:
"Twitter is public, and individual blogs or magazines are public, but a tweet with the right hashtag can be forced into the visual spectrum of someone who might have otherwise never paid attention to an argument."
So for the general public, hashtags have a place in the world. But is it the same for politicians who have the power to do more? Hashtag campaigns promoted by politicians who don't also put into place more active solutions are potentially more deserving of ridicule.
It is not easy to measure the tangible success of hashtag campaigns. Although the United States has sent military surveillance teams and hostage negotiators to assist the Nigerian government, we don't know whether that action was prompted in any way by the #bringbackourgirls hashtag campaign.
Regardless, there is little reason to assume that tweeters who have joined in are not genuine in their concern, and it's equally hard to prove that their actions haven't helped. It might be easy to poke fun at campaigns that hinge on social media platforms — granted they are the same sites that people use to talk about wedding dresses — but arguing about the level of merit in using Twitter to address international or political issues overlooks how much the spread of ideas can help to jumpstart real action.
As technology progresses — there's already experimentation in Finland with crowdsourcing legislation — integrating social media into government action will likely be seen more and more as a common, logical and effective occurrence.